After getting his lips wet with a first ascent, Laine was eager to climb those routes we had scouted a few days earlier. See previous Post. Being unemployed and the like I was totally up for the challenge.
Laine on the approach.
Our first objective was to complete the chimney I had partially climbed on our last excursion. The rock was superb and the climbing was really fun too. Laine told me he had been dreaming about climbing this route since our last visit.
Karsten scopes the chimney, the off-width is the prominent crack to the left
This time Laine took the lead going up a more obvious approach to the climb than I had. He cleaned a few dead bushes from the cracks and was quickly at the ledge below the chimney.
Laine likes gardening and long walks on the beach.
Amazingly, the chimney has a fine handcrack at the back that will take protection making this a great introductory climb for an aspiring leader seeking an easy chimney.
Beginning the Chimney Section
I was curious how Laine might fare since I tend to think of him a stout chested guy but am not sure if he's actually "thicker" than me there. I found the crux of the route to be where the chimney narrows down and forces you to go out of it's cozy security. He ended up climbing it much the same as I had however or even smoother.
A climb you can really get into.
Getting spit out of the chimney.
Laine found the top out on the climb more difficult than I but I guess that is what makes it all fun.
Past the Squeeze
After Laine, I followed with a small hammer and a brush. I excavated what seemed like a ton of dirt and small debris as well as a few death blocks wedged in and above the chimney section. We both agreed that the route might actually be better with some of the annoying blocks in your way removed. Our consensus was the the route might be a stout 5.7.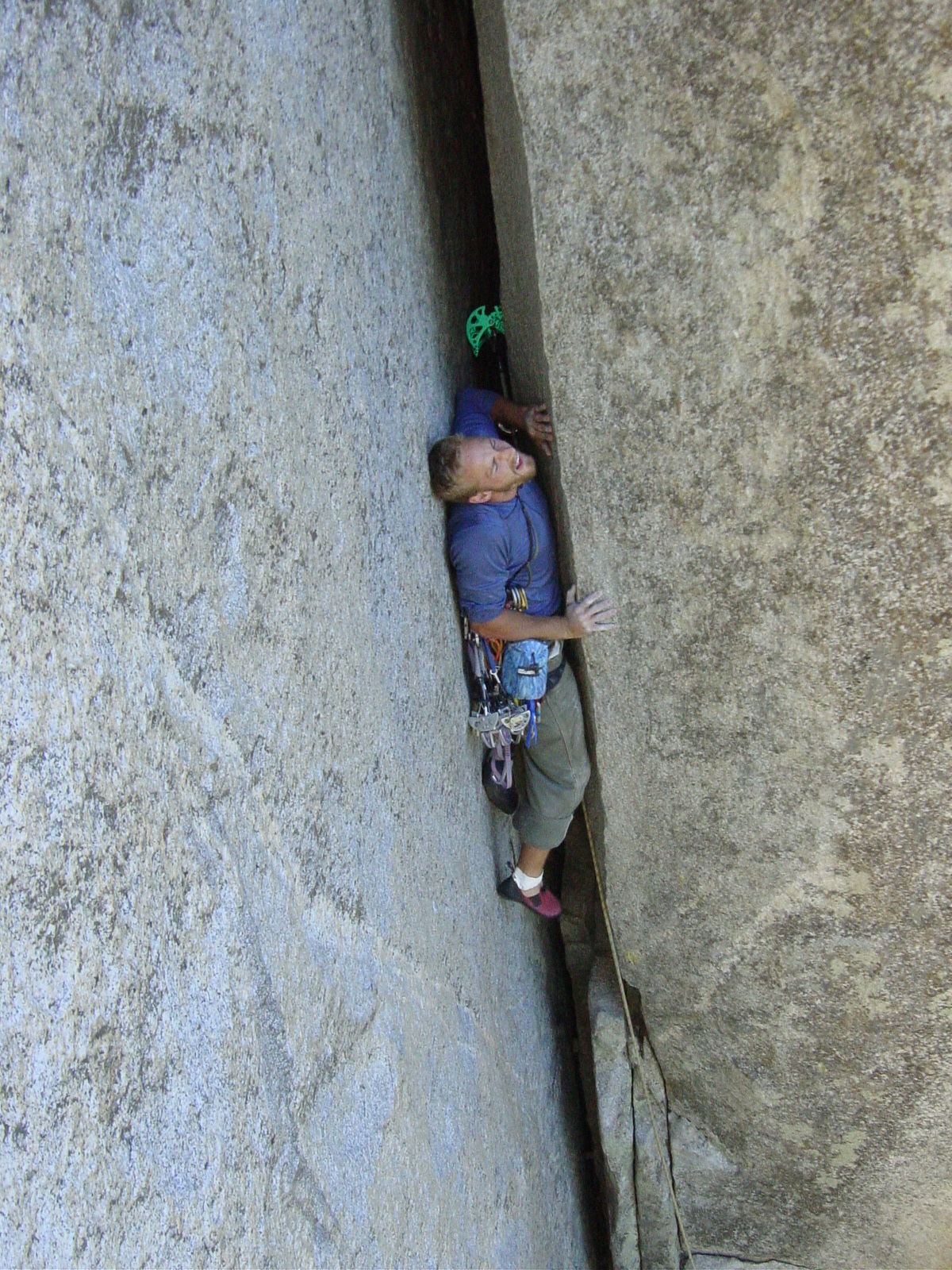 A Yosemite Squeeze Chimney
With the warm-up complete, we set up a rappel station to lower off the wall. Now it was time to set our sights on what I had been thinking of for the last few days . . . . a beautiful off-width. Now, to those of you not in the climbing world, that word may seem innocuous. I assure you that even some of the best climbers out there shudder at the mention such things. When climbing cracks you usually wedge your hands, fingers, feet, or whole body into the crack in very specific ways. Only second to cracks where you can't even get your fingers in are offwidth climbs. These are climbs using cracks that are wider than your fist but too small to shove your whole body in. This means you have to use some kind of hand stacking, chicken-winging, arm-baring finaglry to climb them. Oh, and did I mention core strength. Some of the hardest climbs I have ever done have been offwidths. I can remember feeling like I was going to vomit after climbing one. A climber once described them as like fighting a grizzly bear while being dragged behind a pickup on a gravel road. If you need further visualization see my photo to the right (ok technically its a squeeze chimney but it really captures my sentiment of what OW climbing is like) or click this
Google Images
page.
Our offwidth however didn't look too burly and the true hard section only looked to be about 15 feet but when your moving a half inch at a time that can be an eternity. We had come prepared with the big cams and a healthy amount of machismo. Laine scoped and fondled a few sections while rappelling the previous climb and decided he was up to the challenge. Reloaded with the big cams, he started up.
Making quick work of the bottom section, he was soon to the business. A good ledge gives you a nice place to stop and collect yourself for the difficulty above . . . or allows trepidation to morph into full blown finger-tingling fear. I am not sure what was going through Laine's head but he seemed calm and collected. After placing a cam as high as he could reach, he came back down, paused for a moment seeming to visualize his movements, and then launched into the wideness.
Entering the Off-width section
Let the grunting begin
He squirmed his way up, sliding the cam as he went. I was impressed with his poise and was blown away when he began to stem his feet out and come out of the security of the crack. He was climbing like there was no risk of falling and pressing his feet into previously untouched lichen-coated granite crystals. This take juevos my friends.
Laine stepping out of the Crack
The famous Christman Stem
Looking for the top
Another 10 feet up he placed the largest cam we had. He had passed the most difficult part now but I was still on edge knowing that sometimes the building exhaustion can lead to falls on even the easiest terrain. As the crack narrowed to a more comfortable hand size the rock simultaneously also became more gritty. Glued together kitty litter comes to mind. It was hard to see but I thought I heard a bit of grunting and heard little pebbles trickling down the rock. Only after the climb did he show me that the shoes he was wearing already had holes in them. Nonetheless, Laine made it to the top of his first offwidth first ascent successfully!
After lowering Laine and exchanging the traditional high fives, I knew it was my turn. Sure I could have toproped the climb but then again I have my ego to feed. So, we pulled the rope and now I would get the full experience too. I must admit that I have done an offwidth or two and felt that this one looked to be a cruise on calm waters. Climbing has a way of slapping you in the face when you get thoughts like this. I made my way up, placed my first cam, and began to thrutch up the crack. I reached the section where Laine came out of the crack and I thought, "there is no way in hell I am doing that." I stayed in the crack and undulated my body up.
Trying to look casual
Not so casual anymore, eh
Though not as elegant as Laine, I made it through the crux and finally to a welcomed rest. Glad the hardest was behind me, I moved up the last wide section more casually until my foot slipped. I instinctively braced my body and luckily caught myself but the scare was enough to let my ego know that I can't levitate.
Just fun climbing!
I topped out and felt that rush of achievement along with that feeling of having stolen a cookie from the candy jar and not getting caught. We had just done two really quality routes!
The day was not quite over yet however. The last climb of the day was up an interesting corner. Laine had looked at it more than I had but it was now my turn to lead.
Red dots indicate route
With the sun getting lower, I climbed up an easy ramp system in the corner. The climbing was fairly easy but unnerving because two trees near the route had dropped so many pine needles onto it. The climbing slowly got harder. I was trying to space out my gear and make it to the top in one long pitch. Doing this means going for big distances between protection pieces and a heavy rope. The crux came near the top as the climbing became tougher and it seemed loose blocks abounded. Knocking off one of these microwave size behemoths could cut the rope or worse injure the belayer. Luckily everything held and the route was pretty good. Laine followed easily as well but we both agreed that before we put anyone else on the route there should be some trundling of those death blocks.
Overall it was another great day out. We rated the chimney a 5.7+, the OW around 5.9, and the corner also 5.9 to 5.10 depending on which variation you take. Can't wait to get back up there.